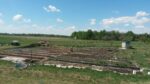 Long Business Description
We share our land with folks who want to grow and produce food sustainably. We connect folk to their food, weaving their capacities in a community of mentors and apprentices.
What makes this organization sustainable?
Our Soil is the foundation of all food grown here. All impacts we can consider are shared with wildlife as well as domestic animals and garden spaces. Regenerative Agriculture is our main goal but in a framework of traditional, low impact skills.
Send Message to listing owner