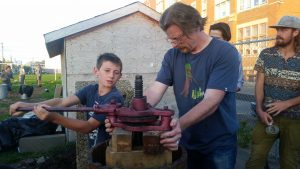 Edmonton Permaculture Guild Events
Permies at the Pub
Nov 17th 6:00 to 10:00 p.m.

Situation Brewery – 10308 81 Avenue Northwest

Get Your Tickets Today! Only 15 tickets left!

https://www.eventbrite.ca/e/permies-at-the-pub-tickets-28810149934?aff=eprofsaved
The Edmonton Permaculture Guild is hosting Permies at the Pub, Featuring 4 fantastic Local Guest Speakers

Solbird Energy with Matt Simard & Kea Adachi – The future is here! Off Grid Systems and incentive programs. Alberta – we're making the switch to a brighter more resilient future!

PLANTiful – with Amy Beaith-Johnson, PLANTiful is an artisan apothecary company, creating locally made Skin Care Products that are healthful and full of nutrients for our skin.

Designing with Nature with Dustin Bajer – The Birds & Bees of Permaculture

Wild Green Garden Consulting with Claudia Bolli – Revealing the Awesome world of Microbes in our soil and even in our beer 😮
A Q&A to follow along with some yummy craft beer, FREE pizza and great conversation.Join us for a special night where our community comes together in celebration. Tell us your needs and yields and how the Edmonton Permaculture Guild can help build a dynamic and resilient future for our city.Only 35 tickets available so don't delay – get your tickets today.
https://www.eventbrite.ca/e/permies-at-the-pub-tickets-28810149934
Let's have some FUN! Good people and a place to meet, laugh, share, raise a glass and enjoy!
#YEGPermiesAtThePub #YEGLocalFood #YEGResilience
Annual General Meeting & Potluck, Sunday January 22nd, 2017 5:00 p.m. to 8:00 p.m.
Location:  Ritchie Hall
Call out for Volunteers:
We are very excited to be hosting a number of events this year. If you would like to play a role and/or have the opportunity to talk permaculture with like minded individuals at community events, please let us know – there are plenty of opportunities to get involved. Please subscribe to the newsletter to stay tuned to all of the latest news and events taking place in our fair city.
We are always looking for committee members to assist in planning and executing events! It's a ton of fun, talking permaculture and learning from each other!
Check out some of our past events…
Local Permaculture Related Events/Courses
We're in the process of moving this lovely long list into calendar format for easier browsing – check it out here!
August 20 – Intermediate Beekeeping Class
September 3-5 – Family Homesteading Camp
September 10 – Designing Water for Home, Property & Garden
September 15 – Chickens 101
2016 Northern Alberta Permaculture Convergence – September 16th to 18th
MISSION
To grow the expanding edge of designers, practitioners, and educators who are taking responsibility for care of earth, people, and the future.
AIMS
 To support individuals in how best to develop their skillsets and knowledge in working with rather than against natural patterns.
To enrich the inter-generational community of environmental, social and spiritual activists through the creation of a safe, inspiring space and demonstrative, festive gathering.
To provide resources of contextual information and a platform for the participant's ongoing permacultural development.
To establish an enjoyable means by which practical life skills, hands-on capacity-building, and the exploration of appropriate technology is brought to the forefront of the learning process.
To celebrate the yields of our professional, artistic, and spiritual efforts and gather momentum in furthering the positive adaptation of all life in Alberta.